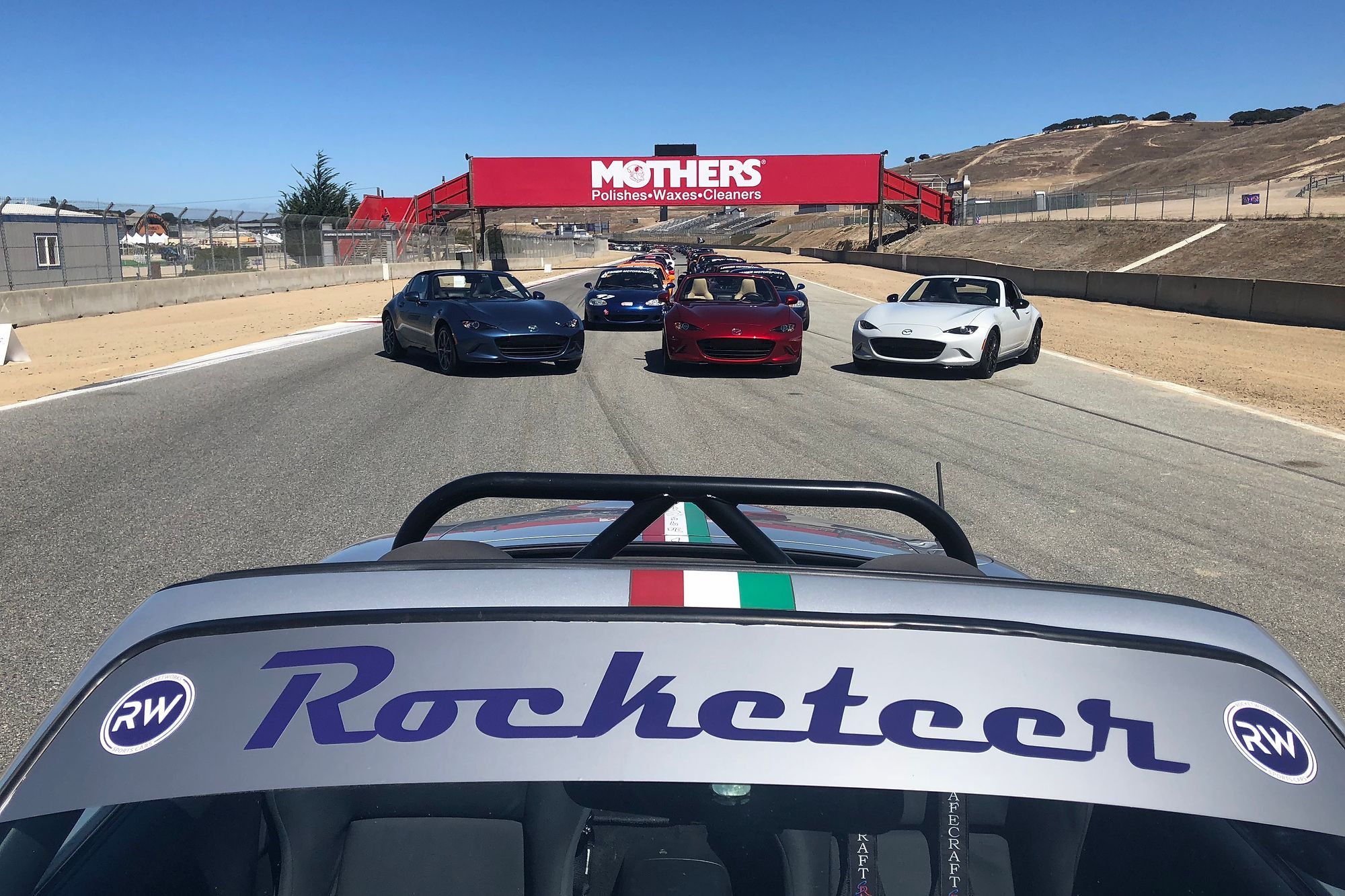 01 October 2018

Miatas at Laguna Seca with Rocketworks Sports Cars & Eric Jones Motorsports

When we first announced that we would offer a production version of the MXV6 in 2016 we would never have dreamed that just over 2 years later, we would be stood track-side at Laguna Seca with an MXV6. And yet there we were, with two cars (packing 12 cylinders) and a team of like-minded enthusiasts all assembled by our USA distributor. Rocketworks Sports Cars and Eric Jones Motorsports are representing Rocketeer and without question they are taking this very seriously.

Miatas at Laguna Seca is an annual event run and made possible by Rick Weldon and his team. With some support from sponsors including Mazda North America, the event has been running since 2009 and attracts Miata enthusiasts from all over North America and beyond. The track event offers something for all levels of experience and attracts some pretty serious machinery and drivers alike. Flyin' Miata, Goodwin Racing, Ken Auto, K-Miata, and Rocketworks Sports Cars just to name a few, all here to put rubber to the road on one of the best racing circuits in the world.

Rocketworks Sports Cars prepared two cars for the event, a beautiful late NA in Montego Blue with a fast road set-up, as well as a rather seductive looking silver NB with a few additional modifications for track work, including stickier rubber as well as some additional oil cooling and capacity. With both cars reportedly making over 280bhp (287bhp & 242lb/ft at the crank) and an experienced driver at the helm (Eric Jones), Rocketworks had come to this party well prepared.

Saturday morning came round and we entered the first session for some long anticipated track time. Eric had no trouble settling into a rhythm with the track and the car, despite cold tarmac and tyres. No surprises here, he knows the circuit well. Eric testifies that the character of the car is completely unspoiled. With perfect balance and poise the car turns in sharply, steers on the throttle, and fires out of the corners with ease, accelerating hard even on the way up the hill before the corkscrew. In a funny way, we put our faith in each other as we headed over the blind crest. We designed and developed many major components in this car, Rocketworks Sports Cars built it, and Eric Jones was about to throw it off the top of a hill. Video footage below:

Not long after putting in a few laps of the circuit, we were asked if we would like to be the lead-car for the much anticipated 'parade lap' of the famous circuit. No big deal. Just lead a slow lap of the track with over 400 enthusiasts in their cars, and a selection of the latest Roadsters supplied by Mazda North America. We have included a link to the official drone footage at the bottom of the article. A tremendously exciting experience, made even better when we bumped into none other than, Tom Matano, the man himself, designer of the Mazda Roadster and every bit responsible for its existence. Naturally we dragged him over to look more closely at the MXV6. He peered into the engine bay and paused for a moment or two before turning around: '' Its a very tidy conversion... I love it''. Obviously we were thrilled, and even more surprised when he turned up in our pit garage later that day to further inspect our cars. They certainly left an impression.

We hadn't set out to break any lap records, after-all, this car was loaned to us by its extremely generous owner, Ed Pavone, who was one of the first customers to put his name down for a car. Eric is rather handy behind the wheel though, with experience in single-seat and sports cars at Laguna, as well as race-wins in a Spec Miata series. Not many people would be quite as well adjusted to this particular test. 1 minute 44.5 seconds. A quick look at the official lap records reveals its on-par with a Gen 2 997 Carrera, and faster than the Spec Miata record. Not too shabby!

Of course the MXV6 is all about so much more than lap times. The excellent balance, the sweet sound of the Jaguar V6, all in a lightweight, practical roadster body. It really does have to be experienced, and fortunately this event lets the public do just that. Willing participants can sign up with the organisers for a passenger wrist-band, then arrange hot laps with cars on track. We took a number of people around the circuit, and the MXV6 certainly didn't fail to impress. They all come back grinning from ear to ear, evangelical about the handling, performance & sound. I know how they feel, it never gets old.

We would like to say a huge thank you to friends, family, and colleagues who have supported us, believed in us, and helped make this happen. We are thrilled to be a part of such a great community of enthusiasts who really understand what we are doing. Blair at Rocketworks Sports Cars, Eric Jones Motorsports, Ed, Joe, Don, Rick, and of course, everyone who attends these events and makes them what they are. We salute you, and hope to see you all next year if not before!